HISTORY
CDPO was established under the National General Assembly in 1995 comprising 119 members, including persons of diverse disabilities and leaders from the government ministries.
Since then, CDPO as well as the disability movement, has been officially recognized by the government and the general public and has successfully promoted the rights and participation of persons with disabilities.
In 2001 CDPO signed a Memorandum of Understanding (MoU) with the Ministry of Social Affairs, Veterans and Youth Rehabilitation (MOSVY) outlining its role and its responsibilities to the people with disabilities in Cambodia. From August 2003 in particular, through internal meetings and in conjunction with ADD International and Cambodia Trust organisations, agreements have been reached and actions taken which have enabled CDPO to strengthen its Governing Board.
CDPO proceeded to advocate for the rights of persons with disabilities and to develop the networks of persons with disabilities, working towards their empowerment, their full & equal participation and a life of dignity in society. To date, CDPO has a membership base of 56 Disabled People's Organisations (DPOs) and Federation of persons with disabilities, including 8 Women with Disabilities Forums (WWDFs) which are recognized by the Ministry of Interior (MOI). On 15th March, 2010 CDPO was granted a permission letter from MOI to work with 46 commune councils within 23 provinces in Cambodia.
ORGANISATION CHART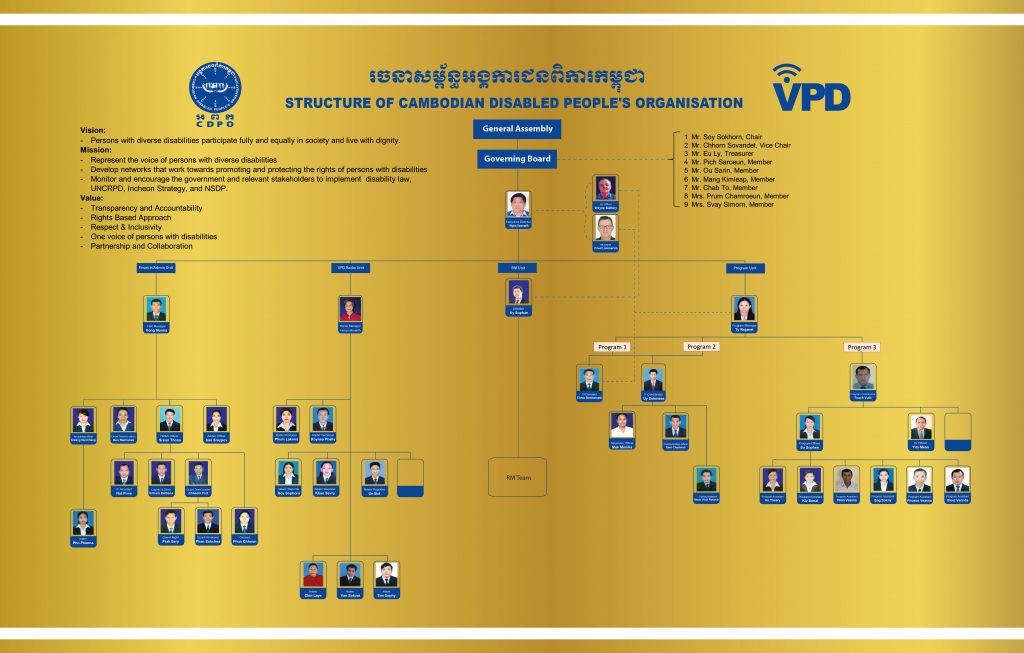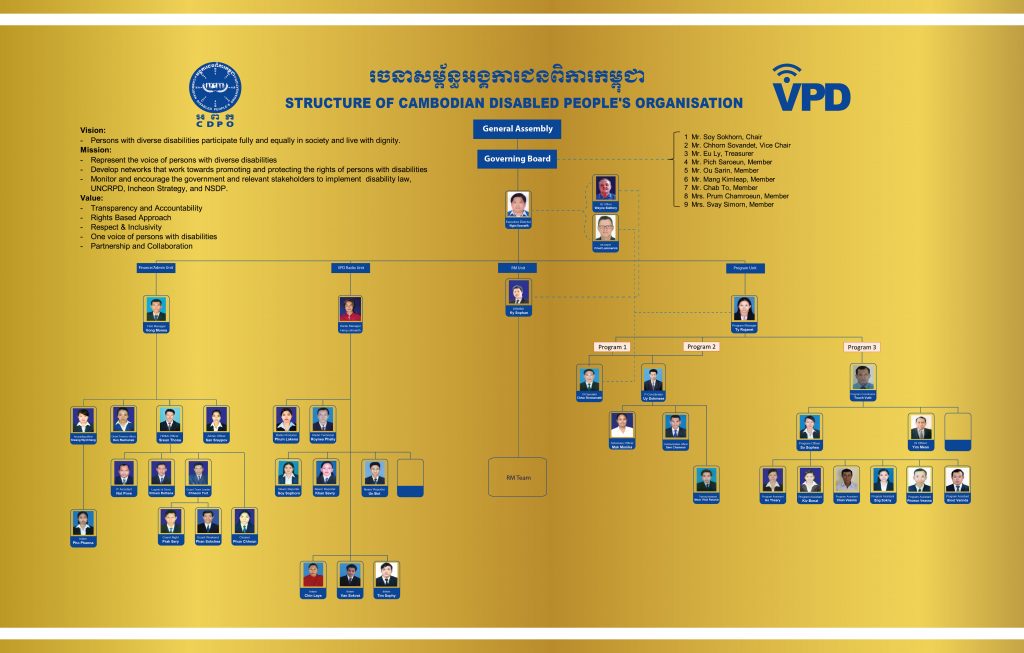 Mr. Puth Samoeun – Chief of Governing Board
Ms. Yun Chenda – Vice of Governing Board
Ms. Van Vivortana – Treasurer of Governing Board
Ms. Moch Malis – Governing Board Member
Ms. Svay Simorn – Governing Board Member
Ms. Khun Vannet – Governing Board Member
Mr. Pich Saroeun – Governing Board Member
Mr. Path Som Ang – Governing Board Member
Ms. Chheun Tevy – Governing Board Member